The Citizenry: Building a Business with Purpose
Learn how from The Citizenry Co-founders Rachel Bentley and Carly Nance started their impactful company.
OUR LIGHTBULB MOMENT FOR STARTING The Citizenry…
CN: Shopping for our own homes, we found ourselves uninspired by what was readily accessible. When we thought about the objects we loved most in our spaces, they were the pieces we'd picked up on our travels. We had met the makers, heard their stories and built a relationship that gave the object more meaning. We thought: what if we could give people that next-best-experience to traveling the world and meeting these incredible makers? What if we made it easier to have an inspired shopping experience where you felt more connected to the product and the people behind it? Even better, what if you could completely trust the brand and know that the company was designed with the makers' best interests at heart? That was the lightbulb moment.
RB: Something that sets our business apart is how we make relationship building a top priority. We build long-term, sustainable partnerships with our artisan partners so that as we grow, they do as well. The successes we celebrate are the expanded workshops, the improved living conditions and the increased access to education that our artisan partners have seen as a result of our collaboration.
THE MOST IMPORTANT THING WE LEARNED IN OUR FIRST YEAR OF BUSINESS…
RB: Hiring. The quality of the team you build is going to be in direct proportion to the thoughtfulness of your strategy and level of effort you put in. We screen extensively (all the way back to college transcripts!), use projects and one-on-one working sessions, and craft offers as deliberately as possible. It's made a huge difference and as a result our team is A++. We're proud and thankful we get to work with those world-changers every day.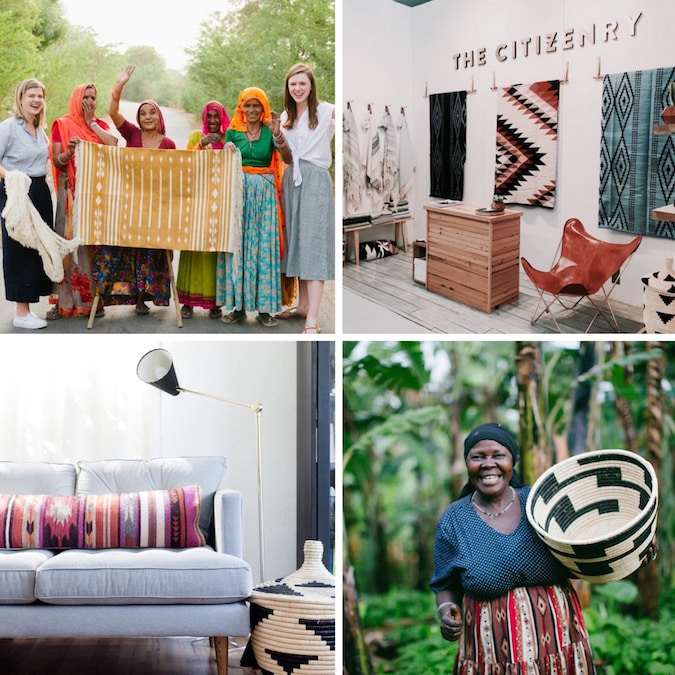 WAYS WE EMPOWER OUR GLOBAL ARTISAN PARTNERS…
RB: Global supply chains sound boring, but they have more impact on the environment and human rights than anything else happening in the world today. We built The Citizenry to set the standard for social responsibility and use our supply chain to empower people. Progress is only possible if we, as consumers, shift our support to companies that focus on sustainability and pay fair wages for 100% of the products they make.
We all have the privilege—and responsibility—to design, create and buy products that make a positive social and environmental impact. We can be the change.
CN: Social responsibility is built into our business model. It's not just an afterthought donation made to a charity we care about. Instead, we are creating a people-first supply chain, building long-term, transformative relationships around the world. It baffled me to find out that a company only has to pay 10% above minimum wage to meet Fair Trade Standards. Our business pushes further than that. Many times our partners receive 2-3x what minimum wage is in the region, and again—it's life-changing.
ADVICE FOR DEVELOPING YOUR BRAND'S STORY…
CN: I've always loved Simon Sinek's TED Talk, and constantly play his takeaway, "People don't buy what you do, they buy why you do it." back in my head.
First and foremost, know your brand's "why." Then, be super clear about what your brand stands for and how it should walk, talk, look, feel and act in the wild. Your brand is a story. Ensure that is it told thoughtfully and consistently as you grow. Remember many times your brand's story is just as much about what you choose not to do versus just the things you do.
WHAT #EMBRACEAMBITION MEANS TO US…
RB: Embrace hope. Believe that the world can be a better place tomorrow than it is today. Don't live your life fearful of taking a risk or worrying about what other people think when you feel pulled towards something. Live your life to its fullest potential.
CN: Be brave, take chances and never forget why you started. Your plans should exceed your current capacity and feel a little scary. Keep dreaming. Keep pushing—even when things seem impossible.
Help an entrepreneur by upvoting
Timely Topics
What to Read Now