The #ToryBurchFellow Transforming the Entertainment Industry and Our Environment
Emellie O'Brien talks to us about the importance of helping an entire industry go green.
EARTH ANGEL IS…
Making movies without making a mess. We are the first sustainability consultancy to service film and television on the East Coast.
THE IDEA FOR EARTH ANGEL CAME FROM…
Graduating from film school and coming to the realization that the film and television industry is very progressive in its content, but extremely wasteful in its practice. I couldn't stand the hypocrisy, so I took my environmental activism and translated it into my production experience to transform entertainment into a sustainable model.
HOW WE ARE MAKING AN IMPACT ON THE ENVIRONMENT…
At Earth Angel we give productions all of the expertise and tools to run a production sustainably. This means implementing zero waste practices such as recycling and composting; donating excess food, set dressing and props to local charities; procuring sustainable products; tracking sustainability efforts and a production's carbon footprint and more!
MY LOVE FOR ENVIRONMENTALISM BEGAN WHEN…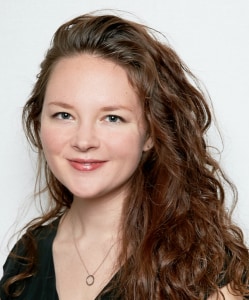 I was in college and began to understand that there is no greater threat to our common humanity than climate change. I've always considered myself an activist for social justice, but once I understood that the effects of climate change are perpetuating cycles of social, economic and environmental injustice, that was when I began to identify as an environmentalist.
MY FILM DEGREE FROM NYU IS AN ASSET BECAUSE…
I understand the mentality and challenges of the cast and crewmembers that I work with, and it's provided me with an incredible network in the entertainment industry. The fact that I was a filmmaker before I was an entrepreneur is the reason Earth Angel has been successful. I often think of myself as a translator between sustainability and filmmaking.
I KNEW I WAS ONTO SOMETHING WITH EARTH ANGEL WHEN…
Crewmembers who I had worked with on a show began contacting me for their new job saying things like: "Earth Angel! This set isn't composting! We need you!"
WHAT I WISH I KNEW WHEN STARTING OUT…
I wish I took more business courses! Being a film major starting a company has set me up with some serious challenges, but I've been lucky to have great advisors along the way.
HOW EARTH ANGEL HAS EVOLVED OVER THE LAST SIX YEARS…
It started as a nickname that a crewmember bestowed upon me on my very first film set and has now grown to a full-fledged company with employees, freelancers, a presence at international film festivals, celebrity endorsements and tons of waste diverted from landfills in the process.
IT'S IMPORTANT FOR THE FILM INDUSTRY TO RECYCLE THESE MATERIALS BECAUSE…
We are the most influential industry in our society. There's no greater medium when it comes to changing hearts and minds, and that cultural power is crucial in the fight against climate change.
ONE THING I WISH MORE PEOPLE KNEW ABOUT THE PATH TO A SUSTAINABLE FUTURE…
Everyone has to be a part of it! Businesses, grassroots organizations, local government, community activists – the future of this planet is everyone's responsibility.
WAYS WE ARE ENGAGING WITH OUR CLIENTS ON AND OFF SET…
Each new production that we consult on is an opportunity for us to educate hundreds of people on how their everyday consumer choices impact the environment and how best to lead a low-impact lifestyle. We aren't just change agents ourselves – we are creating change agents.
MY FAVORITE WAY TO GIVE BACK TO THE ENVIRONMENT IS…
Composting. I hate making trash and I love giving back to the earth.
BEING A TORY BURCH FOUNDATION FELLOW TAUGHT ME…
To embrace ambition! And not be afraid to ask for help.
BEING PHOTOGRAPHED IN VOGUE WITH TORY BURCH WAS…
Unbelievable (still)! I'm used to being behind the camera so being in front of the camera was a bit surreal. Being featured alongside Tory and my other fellows was simply an honor.
ADVICE FOR FELLOW FEMALE ENTREPRENEURS…
Lift each other up!
MY MOTTO IS…
"Only those who will risk going too far can possibly find out how far one can go." – T.S. Eliot
BEFORE THE END OF THE YEAR, EARTH ANGEL WILL…
Have kept a total of 1 million plastic water bottles from being sent to landfills.
Help an entrepreneur by upvoting
Timely Topics
What to Read Now