Meet: Entrepreneur Taylor Mahlke
Advice from the Pen+Pillar founder, Taylor Mahlke.
An illustrated paper-goods brand that believes in using art for good. I create cards, art prints, notepads, and journals that are hand-painted and printed in the USA. Ten percent of all our proceeds are donated to local refugee resettlement in our community.
AND I WAS INSPIRED TO LAUNCH IT BECAUSE…
Art has been a part of me for a long time and when it came time for me to decide on a career, I knew that art needed to be a part of my future somehow. I didn't have a clear vision for what I wanted that to look like, and I was never sure that college was the avenue I needed to take. In 2011 I left college and taught art in the Middle East. While I was overseas I had the opportunity to work with Palestinian refugees. It was an eye-opening experience for me to see injustice on that scale, and it changed me. I started Pen+Pillar with the goal to leverage my talents to empower and aid the refugees in my community.
THE STORY BEHIND THE NAME…
I wanted the name to marry the artistic and philanthropic sides of my brand. "Pillar" was the word I came up with first, thinking about how support for our refugee community needs to be the pillar of everything this business does. "Pen" represents the artistic, creative business side to the brand.
BEST ADVICE I RECEIVED WHEN STARTING THE BUSINESS…
Work hard, and stay committed to learning your craft. Don't say no to opportunities — find a way to make it work.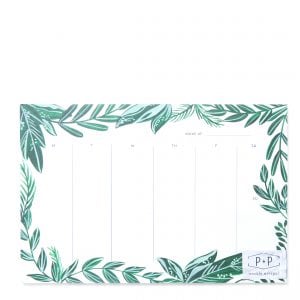 CHALLENGES I FACED EARLY ON, AND HOW I NAVIGATED THEM…
Looking back, everything about the way I started was "wrong" by any good business standards. My husband and I were newlyweds living in Saint Paul, Minnesota, on just his income. He was an amazing support, and encouraged me to start Pen+Pillar, even though I had never finished college, had no connections in the industry, and knew absolutely nothing about a creative business. I started Pen+Pillar with the leftover money each month from his income, which was about $50 to $75 per month, so challenges abounded. I started by printing all my own products on a home printer, and that was probably the hardest thing. But you do what you need to do to make it work. Just learning how to get an online business up and running felt like this giant, impossible feat. I spent hours upon hours reading about marketing, the best website platforms, taxes and all these other things I never realized I needed to know. With all challenges then and now, I have found that if you accept the challenge, work hard, and utilize the resources available to you, you can overcome anything. It's all about your mindset.
I EMBRACE AMBITION BY…
Just going for it. I really believe that hard work and persistence can get you where you want to go.
WAYS I STAY MOTIVATED TO ACHIEVE MY GOALS…
I remember why I started Pen+Pillar. The goals I have for Pen+Pillar are much bigger than myself, and having this opportunity to spend my life dedicated to serving and empowering others is my greatest motivation.
I also have an amazing support system including my husband, my friends, and my family. Being an entrepreneur can be a lonely road, so having their support is a much-needed boost when it gets hard. Pen+Pillar couldn't exist without them.
Help an entrepreneur by upvoting
Timely Topics
What to Read Now