This entrepreneur and mom shares how she models ambition for her children.
Skinesque brings Korean skin-care innovation to the U.S. with travel-friendly products for both Korean beauty enthusiasts and skin-care fans alike. Skinesque creates luxurious, yet simple skin-care products by fusing Korean skin-care innovation with portability and multi-functional formulas. Skinesque products are made in Korea, and designed in California. Featuring thoughtful formulations, Skinesque products are formulated without parabens, sulfates, mineral oil and synthetic dyes, tested by dermatologists and are cruelty-free.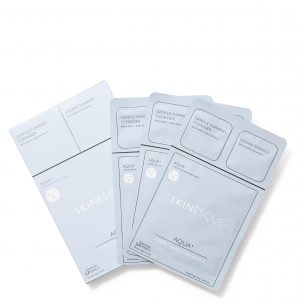 AND I WAS INSPIRED TO LAUNCH IT BECAUSE…
I have always been dedicated to caring for my skin at a very young age, at the advice of my Korean mother, aunts and a dermatologist uncle. During my days as an attorney, I was based in Asia, and during this time, I experienced the effectiveness of Korean skin-care innovation. And more importantly, I was inspired by the Korean woman's commitment to achieving beautiful skin and appreciation for taking care of oneself, despite busy schedules. Taking care of one's skin was not a burden, but a pleasure; and it was more about preventing, rather than treating once the damage had already occurred.
The two things I took away from my personal experience with Korean beauty are the importance of cleansing and intense hydration. Our multi-functional exfoliating cleanser, Enzyme Washing Powder, and our 3-step face masks provide an accessible but luxurious addition to anyone's regimen to provide deep cleansing and extra hydration.
THE STORY BEHIND THE NAME…
I am so grateful to the many women in my life who supported me when I first started Skinesque. My mom helped me with childcare, which was critical for me, especially in the beginning. My childhood friends helped with my branding and graphic design, which helped with my budget. And my best friends and I spent a week brainstorming names that would fit our brand and products.
BEST ADVICE I RECEIVED WHEN STARTING THE BUSINESS…
Starting a business and a brand is a marathon, not a sprint. The right message, design, products create a cohesive brand, and it needs to be cohesive and continuous for the audience to truly feel connected and engaged. At the same time, I need to know when to pivot and make a change, based on the nature of our customer's needs.
This leads me to another great piece of advice I received when starting Skinesque — truly understand your customer base and provide them with something they need and enjoy.
CHALLENGES I FACED EARLY ON, AND HOW I NAVIGATED THEM…
I was fortunate to work with well respected and quality manufacturers in Korea. However, the secondary challenge had to do with the MOQ requirements that were very high for a new entrepreneur with a limited budget. I decided that I did not want to compromise on the quality of the manufacturers and stayed with them despite their requirements. Instead, I decided to start with a fewer number of products and worked out a plan where I could meet my MOQ commitment via several installments.
Because I was a bootstrapped startup, I had to be very mindful of how I spent my money. I did not want to compromise on the quality of my products — my number one priority. And because we're an e-commerce-based business, my budget also had room for website development and digital marketing. After these two, I was very lean on what and how I spent.
I EMBRACE AMBITION BY…
Showing my six-year-old daughter, Juliet, and three-year-old son, Ethan, that they could have, work towards, stumble but ultimately achieve their dreams!
WAYS I STAY MOTIVATED TO ACHIEVE MY GOALS…
Every Sunday, I go over what I need to get done by the next week's end. Tackling mini goals on a weekly basis helps me to be productive and not get bogged down by the overwhelming long-term goals. I also meet with my mentor, who is a seasoned female entrepreneur/mother on a bimonthly basis to touch base about my accomplishments, roadblocks and future goals. Advice, both personal and professional from her, helps me to have perspective on how I am doing.
Help an entrepreneur by upvoting
Timely Topics
What to Read Now