Inside the 2019 Fellows Program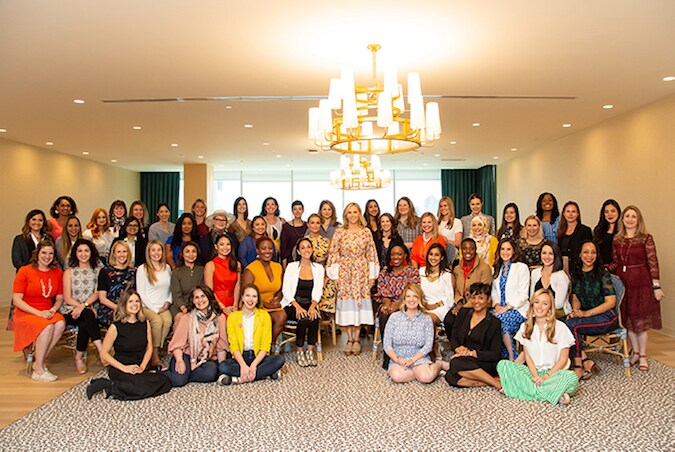 50 women entrepreneurs, 15 speakers, 4 days and one incredible #ToryBurchFellows week.
THE PROGRAM…
This year, the Foundation selected 50 women-owned businesses to the #ToryBurchFellows Program. Each of these early-stage entrepreneurs received a year-long Fellowship, a $5,000 grant for business education as well as access to the Foundation's online peer-to-peer network.
THE WORKSHOPS…
Dynamic leaders including authors Seth Godin and Kelly Hoey, Instagram's Emilie Fife, PureWow's Chief Content Officer Mary Kate McGrath, and The Muse Co-founder & CEO Kathryn Minshew shared their expertise with our entrepreneurs during four days of workshops at the Tory Burch Office. Plus the founders visited Google, Hearst, New York Stock Exchange, Spotify, and Whole Foods. The week culminated with a pitch day where twelve women entrepreneurs presented their businesses to investors and influencers.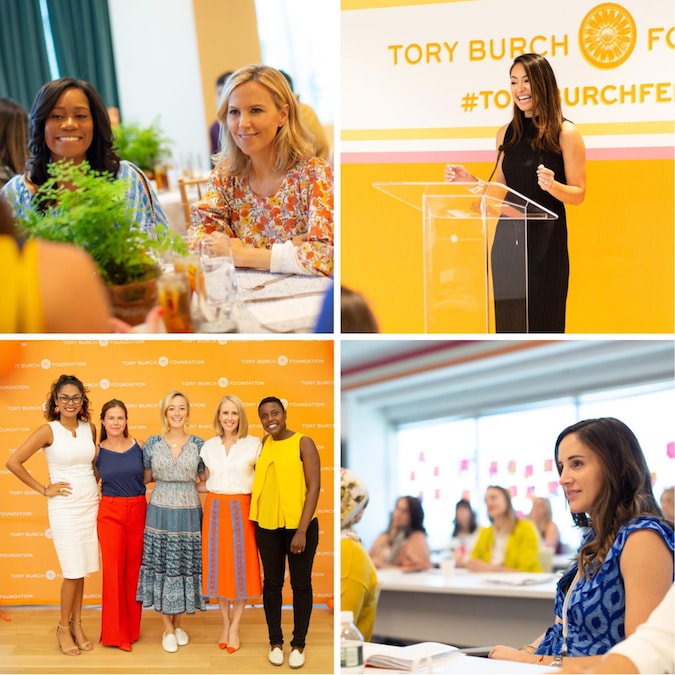 THE 2019 FELLOWS…
From sustainable fashion to cybersecurity, the Fellows' businesses are equally diverse, innovative and remarkable. Learn more about these entrepreneurs:
Autumn Adeigbo, Autumn Adeigbo

| New York, NY

Meha Agrawal, SILK + SONDER | San Francisco CA
Naa-Sakle Akuete, Eu'Genia Shea | Brooklyn, NY
Stacy Anderson, KENT Woman | Los Angeles, CA
Rechelle Balanzat, Juliette Inc. | New York, NY
Lauren Blanco, Markham & Fitz | Bentonville, AR
Stephanie Carter, Hypland | Hawthorne, CA
Arielle Cassidy, The Juice House | Garwood, NJ
Leslie Ann Ciccone, swah-rey | St. Petersburg, FL
Claire Coder, Aunt Flow | Perrysburg, OH
Patty Delgado, Hija de tu Madre | Los Angeles, CA
Michelle Dhansinghani, Elan Strategies | Washington, D.C.
Christina Fagan, Sh*t That I Knit | Boston, MA
Kate Flynn, Sun & Swell Foods | Santa Barbara, CA
Nicole Galli, Law Offices of N.D. Galli | Philadelphia, PA
Meredith Gradle, Iris Works | Indianapolis, IN
Genevieve Gralton, Underbares | Washington, D.C.
Ira Green, Freedom Deodorant | Las Vegas, NV
Amanda Gregory, Catalyst Marketing Agency | Denver, CO
Carrie Griffith, Little Nugget | Indianapolis, IN
Purva Gupta, Lily AI | Mountain View, CA
Kathrin Hamm, Bearaby | New York, NY
Kristina Han, Own Your Wonder | Washington, D.C.
Jennifer Hunt, Dixie Design Collective | Birmingham, AL
Erum Ilyas, AmberNoon | King of Prussia, PA
Arielle Johnson, Fierce Staffing Services | Detroit, MI
Tamara Keefe, Clementine's Naughty & Nice Creamery | St. Louis, MO
Bonnie Kuhl, Archer & Olive | Leander, TX
Sarah Lagrotteria, Flowers & Bread | Columbus, OH
Rosa Li, wildwonder | San Francisco, CA
Arion Long, Femly | Upper Marlboro, MD
Shahira Marei, The Dirty Cookie | Irvine, CA
Deidre Mathis, Wanderstay Hotels | Houston, TX
Laura McCann, ADORAtherapy | Asheville, NC
Lisa Mullan, Uwila Warrior | Boston, MA
Caitlin Murphy, Global Gateway Logistics | St. Louis, MO
Rani Navarro-Force, The Marie Antoinette Gluten Free Baking Co. | Wathena, KS
Jay Newton-Small, MemoryWell | Washington, DC
Damali Peterman, Breakthrough ADR | New York, NY
Jenny Pfanenstiel, Formé Millinery Co. | Louisville, KY
Carolyn Phillips, Alchemy Pops | Fort Worth, TX
Lillian Rafson, Pack Up + Go | Pittsburgh, PA
Caitlin Ritt, The Lotus Method | Oakland, CA
Audrey Roofeh, Mariana Strategies | Washington, D.C.
Amanda Saab, butter bear shop | Livonia, MI
Beth Santos, Wanderful | Boston, MA
Heather Stratford, Stronger International | Spokane, WA
Sabena Suri, BOXFOX | Hawthorne, CA
Laura Taylor, Mingle Mocktails | Wayne, PA
Donie Yamamoto, Vital Pet Life | Los Angeles, CA
Help an entrepreneur by upvoting
Timely Topics
What to Read Now